For the last two nights we have stayed in Huémeda, a tiny little village outside the small town of Catalayud, in the northeastern part of Spain. Huérmeda is about the size of our block at home, but draped across some steep hills. There are no restaurants or stores to speak of – everyone goes to Calatayud (pop. ~20,000) for food and entertainment.
Here's part of the road up to our B&B, which is just up the hill to the right. You don't drive up the right fork here, but you pretty much drive down every other tiny lane here and in the surrounding towns.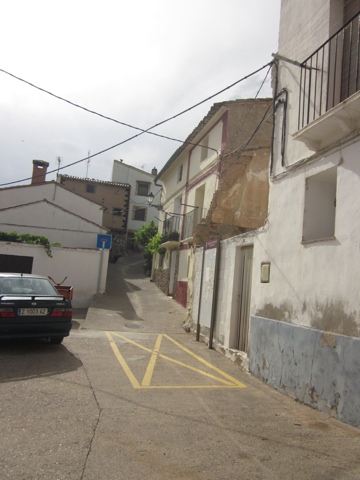 In fact i have done a significant amount of backing up down alleys when it turns out the tiny lane is too small even for our itty Skoda rental car, or a road is two way only to a certain point.
The big attraction near Huérmeda are the ruins. There are several short hiking paths leading out of town, including one to the Roman ruins of Bilbilis up on a hill. Another good climb for us and the kids.
Another attraction nearby (but requiring a short drive) is the thermal spring area at Balneario Termas Pallares, a large lake filled by hot springs and an associated spa hotel. There are a few of these hotels in the town (Alhama de Aragon) but this is biggest, and the only one with a lake. The kids loved the swimming, although Eero's goal to catch some fish with his hands was not achieved.